You know, since I've been single, I have been playing the dating game and not playing well apparently.  Then I stopped and re-read, comments and things from my readers and I think a bunch of us have been so knocked around that we should be lined up in the dented and ding section at Sears.
Of all the baggage that I think we carry around, the dysfunction that I think we drag from relationship to relationship the most is distrust.  It's easy to decide that people are shit but it's not so easy to let our guard down and allow them to become sugar again.  It's like you meet someone you totally click with and instead of being totally excited at first, the feelings inside are more like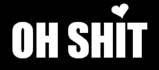 I can attest to the fact that letting that guard down is one on the hardest things to do.  I don't just have guards, I have stone walls, moats, drawbridges and the like…lol, getting in with me is almost list breaching the castle in the Prince Caspian movie….LOL.  Still, as in the movie, it is possible to get in.  Most people who have had their emotional foundations shaken in bad relationships develop those barriers but even so, we  are aware that in order to move on, we have to be willing to drop the bridge so to speak and invite someone in our fortress.  But when?
What is it that decides we are ready to let our guard down and try this madness again??  Is it the person?  Time?  Gut feeling?  I think it can be any of the three.  I believe so strongly that the right person can walk into our lives and stir up the feelings that we have been protecting behind those, what we wanted to be, impenetrable walls.  They stir up the feelings of trust, compassion, passion, desire, need to love and the need to be loved.  The biggest feeling that is awakened is our feeling of vulnerability.  I know that I can deal with almost anything but the feeling vulnerability throws me for a loop.  Why?  Because that means, my guard is or is on it's way down and whoever I'm letting it down for can hurt me.  I'm like most people, not a huge fan of that.  The funny thing is, it's easy for us to say that when we're vulnerable, someone can hurt us but the flip side is that when we're feeling vulnerable, someone can love us and help us to feel more emotionally safe.
Some people require time but if we start planning our emotions based on time we can schedule in our blackberry then we have become entirely too regimented or we have become entirely too regimented.  
  We can't plan when to start trusting people in the Captain's log but we can use the log to document when started to feel the joy and relief of letting someone in.
Where we get screwed up a LOT is we don't trust our gut.  Our instinct is something we're born with for a reason.  It's been my experience that some of the biggest dating and non dating problems that I've had in my life didn't stem from my intuition being wrong, they came from me ignoring my physical cues.  I think that many of us are guilty of "giving people a shot" per se.  How many people have you gone out with and you had the attitude "Meh, we'll see what happens, this might work out" versus "Wow, the chemistry with this person is awesome, this is going to be a lot of fun"?  I know I have, I think we may have all had the urge to settle even though we don't have to.  I think that if we trust our gut and let our guard down, we might be making a more accurate decision.
Sure, there is always the possibility of getting hurt no matter when we drop that guard but the other opportunity is there also for happiness, no guts, no glory………right?
So how do YOU decide it's time to start lowering your guard with new people you date?
Originally Posted 10/13/2009